Nov 4, 2020 07:22 PM Central
Sarah Claburn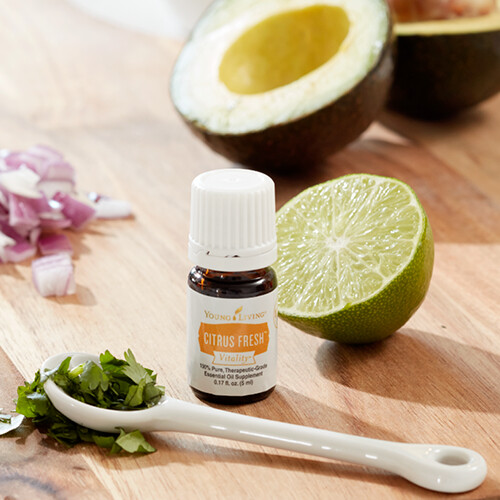 Everyone loves a good guacamole, right? And with all of the health benefits of avocados, you can feel good about eating it.
Avocados have a variety of nutrients, including 20 different vitamins and minerals including Vitamin K, Folate, Vitamin C, Potassium, Vitamin B5, Vitamin B6 and Vitamin E. They also contains small amounts of magnesium, manganese, copper, iron, zinc, phosphorous and vitamins A, B1 (thiamine), B2 (riboflavin) and B3 (niacin).
Avocados contain healthy fats and are also low in carbohydrates, but contain no cholesterol or sodium so they can fit a variety of diet plans.
So grab those avocados and get munching! Enjoy!
Ingredients
2 avocados
2 drops Citrus Fresh™ Vitality
1 drop Lime Vitality
1 tablespoon fresh lime juice
1 clove garlic, minced
2 tablespoons chopped red onion
1–2 Roma tomatoes, seeded and diced
1 tablespoon chopped cilantro
Pinch salt
Pinch black pepper
Instructions
Remove the pit from the avocados and scoop the flesh into a bowl, mashing roughly with a fork.
Add all other ingredients and stir until mixed.
Garnish with cilantro.
Enjoy with tortilla chips or with your favorite Mexican-inspired dishes!
Sep 30, 2020 03:25 PM Central
Sarah Claburn
I love to cook with my Young Living essential oils and this is a crowd favorite at parties. I only trust the quality and purity of Young Living essential oils for my recipes!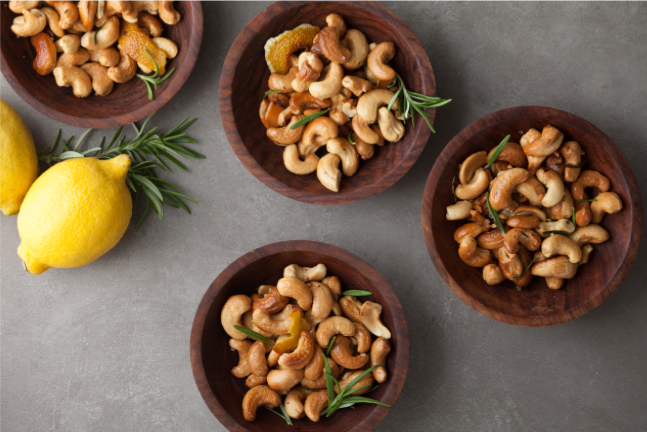 16 ounces raw cashews

2 tablespoons extra virgin olive oil

3 sprigs fresh rosemary, leaves removed

The peel of 1 lemon, pith removed

4 drops Rosemary Vitality

2 drops Lemon Vitality

¾ teaspoon coarse sea salt
Preheat the oven to 375 degrees F.

Place the nuts on a baking sheet and roast for about 8–10 minutes, until warm and lightly golden.

In the meantime, warm the olive oil, fresh rosemary, and lemon zest in a small skillet over medium heat until it begins to sizzle and smells fragrant. Add the roasted cashews and stir to coat completely.

Remove from heat and stir in the Rosemary Vitality, Lemon Vitality, and salt. Serve warm.
Jan 17, 2020 02:20 PM Central
Sarah Claburn
You've probably heard the reports on antiperspirant not being the best for your body (and if you haven't, Google it!). So a few winters ago I decided to make my own one day when I was iced in at my house. It was so easy and you can really use whichever oils you prefer. Mine changes each time! lol I do generally always have lavender and Frankincense in each batch along with the Thieves and Purification. Just play around and see what works best for you, I have seen a lot of recipes that recommend sage essential oil.
Note: some people are irritated by the baking soda. Try using less if that happens, or none.

I got the recipe off of a Young Living essential oils FB page:
1/4 cup each cornstarch (or arrowroot powder) and baking soda
6 tbs. coconut oil
10 drops each Purification and Thieves oils
I mixed the powdered ingredients together in a glass bowl, then basically "cut" the coconut oil in like you would cut shortening into a pie dough. Once it was all well mixed, I added in the oils a few drops at a time to get them all distributed. The result was a fairly stiff paste.
I had deliberately saved my empty Tom's container to reuse. I just dialed it all the way to the bottom and started stuffing balls of the mixture into the container.It looked like this when I was done: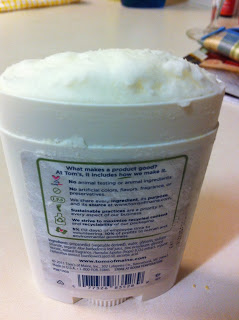 These days I use the empty containers I order off of Amazon, or I also just keep it in a small jar and use my fingers to apply it. Pimiento or baby food jars work great!
If you've made your own - which oils do you prefer to use in yours?
And I totally get that not everyone wants to spend the time making your own deodorant. But you can still get a great non-toxic deodorant from Young Living, which is what I take with me when I travel. Click
HERE
to learn more about some of the personal care items available through Young Living.
Be blessed, and let me know how I can help you find better health!

Sarah :)